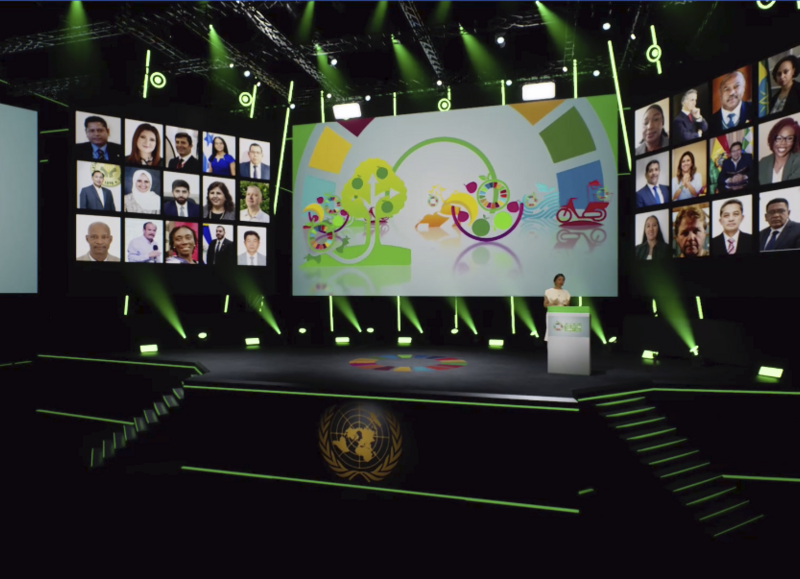 Participants at the UN Food Systems Summit.
Photo: ©UNFSS
World leaders, experts, farmers and producers, Indigenous Peoples, the private sector and civil society met to align agri-food production and consumption with the UN's Sustainable Development Goals (SDGs) at the UN Food Systems Summit. The meeting, which took place during the annual UN General Assembly high-level week in in New York (USA) on the 23rd September 2021, saw nearly 300 commitments from hundreds of thousands of people from around the world and across all constituencies to accelerate action and to transform food systems.

After decades of decline, the number of hungry people has been growing for the past five years, reaching up to 811 million people in 2020. More than three billion people still cannot afford a healthy diet, while obesity and other non-communicable diseases are becoming a growing problem associated with insufficiently diversified healthy diets. The COVID-19 pandemic has compounded the problem, creating severe setbacks in the progress made so far to achieve the SDGs by 2030.

In a Chair's Summary Statement of Action delivered at the Summit, UN Secretary-General António Guterres called on governments and partners to meet the commitments they made to achieve the 17 Sustainable Development Goals (SDGs) by 2030.

The UN Secretary-General's intervention came as world leaders prepared to announce their commitments to more resilient, inclusive and sustainable food systems after an 18-month process of dialogues and engagement at community, national, regional and global level.
Five key areas of action

The Chair's Summary Statement of Action outlines how progress in five key areas at national and regional level would amount to a global shift in making progress on the SDGs, securing fundamental human rights for all.

The five areas, informed by the Summit's independent Science Group, Action Tracks and the Summit Dialogues are:
Nourish All People.
Boost Nature-based Solutions.
Advance Equitable Livelihoods, Decent Work & Empowered Communities.
Build Resilience to Vulnerabilities, Shocks and Stresses.
Support Means of Implementation.
Countries will be supported in effecting change across their entire food systems by Resident Coordinators (RCs) and UN Country Teams (UNCTs).

At a global level, UN agencies – the Food and Agriculture Organization (FAO), the International Fund for Agricultural Development (IFAD) and the World Food Programme (WFP) – will jointly lead a UN system-wide coordination hub to continue the work of the Summit. The hub will benefit from structured advice from representatives of priority constituencies and issues, particularly youth, Indigenous Peoples and women.

The Secretary-General is to submit an annual report to the High-Level Political Forum to monitor progress against the UN's 2030 Agenda. The Secretary-General will also lead a global stock-taking every two years to review progress.
Ensuring sustainable food systems
Many countries announced national initiatives to ensure that their food systems would meet not only the nutritional needs of their populations but also goals around climate change, biodiversity and decent livelihoods for all.

Burkina Faso highlighted the right to food, committing to including this in its constitution and Cambodia pledged to work towards the promotion of gender equality and the creation of job opportunities for youth and women in the food system, while equipping them to become agents of change for nutritious diets. The United Arab Emirates announced the Agriculture Innovation Mission (AIM) for Climate launched with the United States.

Among the new initiatives launched by civil society, financial institutions, academia and philanthropists was a new USD 922 million, five-year investment into nutritious food systems, announced by Melinda Gates on behalf of the Bill & Melinda Gates Foundation.

(UNFSS/FAO/ile)
Source: https://www.rural21.com/english/news/detail/article/food-systems-summit-towards-sustainable-agri-food-production.html?no_cache=1