Asian Organic Agricultural Research and Development Institute (AOI)
"Striving for community health and sustainable development"
Worldwide there are 2.3 million organic farmers, 43.7 million ha of certified organic land and US$ 80 billion in consumer purchases of organic (IFOAM, 2020).
The AOI Institute is the first institute in charge of organic agriculture research and development in Vietnam. The Institute has accompanied with businesses and farmers in this field to contribute significantly in the IFOAM's community. In the "start up" time, the Institiute has overcome many difficulties and challenges to gradually expand the organic models from the Mekong Delta to the Central Highlands and gradually to many areas across the country.
THANK TO YOUR DONATION THAT CAN HELP US TO:
Generate information for organic stakeholders: publications, videos, website, research papers, demonstration models, and more.
Organize activities that connect all stakeholders in sustainable farming, organic agriculture, processing and trade.
Promote the establishment of cooperative farmer groups that link agricultural production towards organic and organic certified international standards.
Mobilize, organize and promote SMEs to pioneer in investing and linkage with farmers to produce and consume organic products.
Mobilize, organize and promote small groups of farmers truly act in sustainable farming and confident deal with companies in trade their organic products.
Invest in the organic sector in places where mainstream agricultural development programs have neglected to do so.
By donating, you make a real difference to livelihoods of many people, protect the environment and sustainable agricultural development.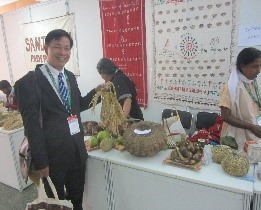 Dr. Nguyen Cong Thanh, Director of AOI,
Mobile: +84 913 669 001
Email: This email address is being protected from spambots. You need JavaScript enabled to view it.
Website: www.asiaorganic.org
He is one of the first scientists to initiate organic agriculture. He has experienced many difficulties and challenges to successfully build an organic rice model of small-scale farmer groups linking enterprises in Chau Thanh district (Tra Vinh) from 2015. Until now, organic agriculture has spread to many other places in the country.
Asia Commercial bank: 500000068 - Asian Organic Agricultural Research and Development Institute (Viện nghiên cứu và phát triển nông nghiệp hữu cơ Á Châu)